The COVID-19 Pandemic The Virus & Infection
Health Watch USA COVID-19 Continuing Education Course Through Southern Kentucky AHEC
1 Hour CE/CME for Category 1 AMA Credits & Kentucky Board of Nursing (KBN). Aug. 5, 2020.
To Take Course. http://soahec.org/ahec-summer-conference/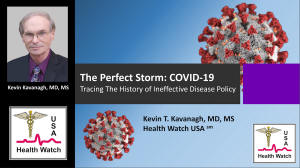 COVID-19: The History of the Ineffective Disease Policy. Dr. Kevin Kavanagh from Health Watch USA

sm

traces the history of the ineffective infectious disease policy regarding the USA's attempt to stop the Sars-CoV-2 pandemic. A historical perspective is given, covering President George Bush's 2005 proposal of the Pandemic and All-Hazards Preparedness Act to the disastrous second peak of the first wave which was associated with continued supply disruptions, lack of testing and an uncoordinated Federal response. (23:05). July. 15, 2020. Download Presentation Slides View Video: https://youtu.be/L7qShgRSLIU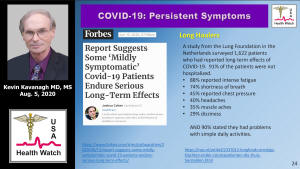 COVID-19 Characteristics of the Virus, Symptoms & Long-Term Disability.
Dr. Kevin Kavanagh from Health Watch USA

sm

discusses the characteristics of the SARS-CoV-2 virus along with the body's immune response and dwindling prospects for herd immunity. Characteristics of COVID-19 along with protracted recovery and disability is also discussed. Aug. 5, 2020. Download Presentation Slides View Video:
https://youtu.be/HN9irgJaMb4
COVID-19: Survivability And The Prevention of Spread.

Dr. Kevin Kavanagh discusses the survivability of SARS-CoV-2 (COVID-19 Virus) in the environment (surfaces, sunlight, humidity, heat) and with different types of hand sanitizers. He also describes research behind the use of masks, eye protection and social distancing along with data indicating the virus may be airborne or aerosolized more commonly than thought. Finally, risks and mitigating strategies are described in various retail and community venues. Aug. 5, 2020. Download Presentation Slides View Video: https://youtu.be/XVSxV4MWgfc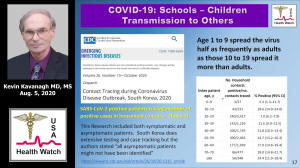 COVID-19: Presentation In Children and When To Open Schools.
Dr. Kevin Kavanagh from Health Watch USAsm discusses the various presentations of COVID-19 in children, and the risk of childhood transmission to and infections of adults. Current guidance on opening of schools along with international experience on school openings is also discussed. Aug. 5, 2020. View Video: https://youtu.be/bH2znWXMAdU
COVID-19: Conference Closing Remarks. Dr. Kevin Kavanagh from Health Watch USA

sm

summarizes the 2020 COVID-19 Conference. The United States has fallen behind other nations of the world in controlling COVID-19. Almost all nations underestimated the infectivity and lethality of the virus and had to change public health recommendations to achieve control. But unlike other nations, many in the United States used these changes to discredit public health officials and then advocate to not follow public health strategies. Leaders in the United States have also mitigated the dangers of the virus and the usefulness of widespread community testing.
Closing Remarks: Health Watch USA & the Massachusetts Nursing Association 2020 COVID-19 Conference. July 15, 2020. Download Presentation Slides View Video: https://youtu.be/UwBNeyZUT20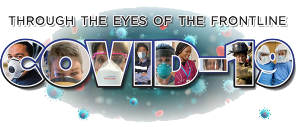 Health Watch USA & Massachusetts Nurses Association's, international conference regarding COVID-19 with Infectious Disease Experts from the United States, Singapore, Netherlands and Spain.

July. 15, 2020.

www.healthconference.org