Public reporting of HAI is a major initiative of Health Watch USAsm. Information regarding Hospital Acquired Infections and Healthcare Acquired Conditions can be found at: www.neverevents.org
Email from Dr Donald Wright, MD, MPH, Deputy Assistant Secretary for Healthcare Quality, Office of the Assistant Secretary for Health, U.S. Dept. of Health and Human Services, on the importance of state initiatives on public reporting in preventing healthcare-associated infections - Oct. 2010 : View Document
HW USA Legislative Testimony on this policy can be view at:
http://www.healthwatchusa.org/HWUSA-Presentations-Testimony/HWUSA-Testimony.htm
Below are the most recent legislative initiatives to pass public reporting of HAI.
Senator McConnell's Letter in Response to Lexington Herald Leader Op Ed: View Letter View Op-Ed
Congressional Inquiry by Senator McConnell to obtain the results of the Veterans Administration Protocol to control MRSA. View Letter
Results of Congressional Inquiry which obtained the National Veterans Administration protocol results for control of MRSA. View Document
Comments and analysis of two underpowered studies where intervention groups have effective intervention less than 50% of the time. These studies appear to have prevented standards being set regarding MRSA Surveillance.
A Perspective on How the United States Fell Behind Northern Europe in the Battle Against Methicillin Resistant Staphylococcus Aureus. Antimicrobial Agents and Chemotherapy. Published Ahead of Print. Oct. 7, 2013. http://aac.asm.org/content/early/2013/09/24/AAC.01839-13.full.pdf+html .
Reply to ''Planned Analyses of the REDUCE MRSA Trial'' Kevin T. Kavanagh, Daniel M. Saman and Yanling Yu Antimicrob. Agents Chemother. 2014, 58(4):2486. DOI: 10.1128/AAC.02821-13.
Download Full Article PDF
A Perspective on the Evidence Regarding Methicillin-resistant Staphylococcus aureus Surveillance. J Patient Saf. 2012 Aug 7. [Epub ahead of print] PMID: 22874134 FREE ACCESS
http://journals.lww.com/journalpatientsafety/Fulltext/2012/09000/A_
Perspective_on_the_Evidence_Regarding.6.aspx
Commentary on AHRQ DRAFT Report on MRSA Surveillance: View DRAFT Report View Comment View FINAL Report

Commentary on Swiss/Geneva MRSA Study Published in JAMA (Harbarth, Fankhauser, Schrenzel, et.al, 2008). Kavanagh K, Abusalem S. Mounting evidence supports universal surveillance for MRSA in preoperative patients. J Am Coll Surg. 2011 Aug;213(2):335-6. PMID: 21787990.
1) Call for Repeal of the Provision in the Social Security Act Which Prevents the U. S. Dept of Health and Human Services from making public hospital accreditation surveys.
2) Healthcare Integration: Its causes and the effects of the loss of the independent medical staff on healthcare quality: See Article in the Bulletin of the American College of Surgeons - Bull Am Coll Surg. 2011 Jun;96(6):28-30. PMID: 22315908 http://www.facs.org/fellows_info/bulletin/2011/kavanagh0611.pdf
3) Governance and Quality Assurance of Accountable Care Organizations (ACO): Comment on the 2011 Accountable Care Organization Proposed Regulation - Apr. 2011:
Comment sent regarding the proposed regulation - View Document

Final regulations creating a waver process for non-profit ACOs - View Document
4) Prohibition Against Physician Gag Clauses which Involve Discussion of Cost and Quality with the Patient or Patient's Medical Decision Makers. View KMA Adopted Resolution

5) Facility Fees: CMS proposed to collect data for facility fee regulation. "Collecting Data on Services Furnished in Off-Campus Provider-Based Department":
View Proposal View HW USA Comment
6) Accreditation (Survey Visits) and Self Reporting of Faculties.
Inquiry sent to Centers for Medicare and Medicare Services regarding concerns of substituting self-reporting for survey visits - Nov. 2010 View Document

Response to Inquiry from Donald Hamilton, Director of the Survey & Certification Group, Centers for Medicare & Medicaid Services- Mar. 2011. . View Document
1) Health Watch USAsm was one of the main initiators of the national CMS policy of Medicaid adopting Medicare's policy on the non-payment of never events.
HW USA was an initiator and facilitator of this initiative on a national level with activities involving conference presentations, forming partnerships with patient advocacy organizations, and advocacy on Capital Hill. This effort started in the Spring of 2008 and was promoted in the 2008 Health Watch USA fall conference. Ken Conner, JD, presented on Medicare and Medicaid non-payment of never events. Lisa McGiffert from Consumer Union also presented and after the conference joined with Health Watch USA and advanced on Capitol Hill the policy of Medicaid Adopting Medicare Regulations regarding Non-payment of Never Events.
This provision was signed into Federal law in the 2010 Healthcare Reform Bill by President Barack Obama on Tuesday, March 23, 2010. Consumer Union played a major role in advancing and advocating for this legislation.
On July 1, 2010 Kentucky Medicaid adopted regulators for the non-payment of never events and hospital acquired conditions.
2) Clarification of the National Quality Forum Serious Reportable Events, regarding medical devices. "2B. Patient death or serious injury associated with the use or function of a device in patient care, in which the device is used or functions other than as intended." In response, the NQF performed the following modification in the Serious Event (2B):
"Definition of device added to glossary. Suggested addition significantly expands the event and will be considered at next update." View Document
The definition of the term, device, was clarified so endotracheal tubes and NG Tubes will be included. Thus, insertion of an NG tube into the lungs and feeding the patient and the placement of an endotracheal tube into the esophagus and ventilating the patient are now clearly reportable events.
Other Related publications regarding value purchasing:
Comment on 42 CFR, Parts 405, 410, 412, Federal Register Friday July 19, 2013.
http://www.healthwatchusa.org/publications/2013-Documents/20130806b-Comment-on-42-CFR-Parts-405.pdf
Hospital Facility Fees Raise Out-of-Pocket Costs for Medicare Patients. US News & World Report. Jan 28, 2013. http://www.usnews.com/opinion/articles/2013/01/28/hospital-facility-fees-raise-out-of-pocket-costs-for-medicare-patients
Kavanagh KT: Health care integration: will physicians lose their voice? Bulletin of the American College of Surgeons, June 2011. PMID: 22315908
http://www.facs.org/fellows_info/bulletin/2011/jun11bullet.html
Insurer's Responses to Regulations of Medical Loss Ratios: Comment on Commonwealth Funds Blog. Jan. 24, 2013. View Comment
---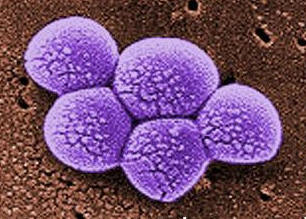 The picture on the right is from a poll conducted by Senator Angel Harper Constituents in Feb 2010 which found that over 90% wanted to have HAIs reported to the Kentucky State Health Department.

The picture on the left is a photomicrograph of Methicillin-resistant Staphylococcus Aureus (MRSA).