David Antoon Return To Board of Directors Page
Colonel David Antoon served two tours in Vietnam as a US Air Force instructor pilot in the Lockheed C-130 aircraft followed by mid-level and senior management positions in program management, flight test, standardization/evaluation, and aircraft modification retiring after 24 years of service. He was then employed 20 years as an Airline Transport Pilot flying Boeing 727s, 737s, and 747s. Colonel Antoon's aviation career abruptly ended because of a "negative surgical outcome" at a nationally renowned medical institution.

His inquiries led to investigations by the Joint Commission, CMS, HHS, insurance companies, state medical boards, and others. All findings were confidential! Through the Freedom of Information Act, he obtained documents associated with nine CMS investigations citing violations for safety, medical records, patient rights, informed consent, credentialing, privileging, unreported operating room fires (Imminent Jeopardy), patients' burns not documented, and other CMS "Condition" and "Standard" level violations. No sanctions or consequences were imposed for repeated serious violations causing patient harm.

Applying the safety culture and discipline learned during four decades in aviation, Colonel Antoon has become a patient safety advocate well-known in the hallways of healthcare regulators across the country. His efforts were recently chronicled as the cover story in Modern Healthcare: "Stonewalling Patient Complaints: Repeat Citations at Cleveland Clinic Reveal Safety System's Shortfalls."

Colonel Antoon is a graduate of the US Air Force Academy (BS), Trinity University (MBA), and The Air Force Institute of Technology (MS). A military veteran, he was awarded many decorations including The Distinguished Flying Cross.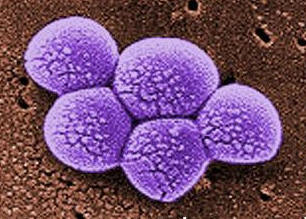 The picture on the right is a photomicrograph of
Methicillin-resistant Staphylococcus Aureus (MRSA).