Daniel Saman, MPH, DrPh Return To Board of Directors Page
Dr. Daniel Saman is a recent graduate of the doctor of public health program in epidemiology from the University of Kentucky College of Public Health. He loves the field of epidemiology and is devoted to performing multidisciplinary and diverse research aimed at improving population health. His interest for research developed during his undergraduate years, when he coauthored a book chapter on mapping Guinea savannah ecology in Sierra Leone utilizing geographic information systems. Since then, Dr. Saman has authored eleven peer-reviewed publications ranging from topics including the illustration of oral health disparities in Kentucky using cartograms to occupational exposure to trichloethylene and more recently on healthcare acquired infections, suicide clusters, and tractor overturns. He has also been active in writing editorials for the Centers for Disease Dynamics, Economics, & Policy (CDDEP), the Lexington Herald Leader, and The Louisville Courier Journal. In a recent editorial for the CDDEP, Dr. Saman along with Dr. Kevin Kavanagh discussed the need for a healthcare acquired infection map by juxtaposing the presence of a beef cow density map.
Dr. Saman has also championed the implementation of standards and protocols for MRSA surveillance, the creation of a mid-level dental provider, reduced sugar consumption, and the benefits of moderate alcohol consumption. In 2008, he was awarded by APHA the Anthony Westwater Jong Community Dental Public Health Post-Professional Award for his work on the application of geographic information systems in assessing the dental workforce distribution across rural, urban, and Appalachian Kentucky. This year he was awarded as the author of the best paper on the subject of head and neck oncology published in the journal Head & Neck Oncology for his review of the epidemiology of oral and pharyngeal cancers.
Dr. Saman serves as chief epidemiologist at Health Watch USA and is currently employed as a research scientist at the Essentia Institute of Rural Health in Duluth, MN, where his focus is on reducing health disparities among rural Americans. As he was raised in a rural Kentucky community, Dr. Saman is acutely aware of the health inequities in rural areas and is motivated to reduce those inequities through epidemiological research, community empowerment, and political action.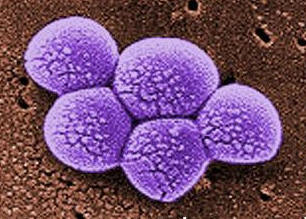 The picture on the right is a photomicrograph of
Methicillin-resistant Staphylococcus Aureus (MRSA).