Pat Tanner, RN Return To Board of Directors Page
Pat Tanner received her BSN at the University of Cincinnati and a Masters of Public Administration at Northern Kentucky University.

Recently retired from the Department of Veteran Affairs, Cincinnati Veterans Administration Medical Center where her last position was within Medical Service as the Program Director and Clinical Manager for the Primary Care Practice of the Internal Medicine Specialists.

Ms. Tanner is a guest presenter at various Universities and Colleges speaking about Political Activitism and Collective Bargaining for Nurses.

She was honored to be the Past President of the Kentucky Nurses Association during the KNA Centennial Celebration. She was also the chief negotiator for the KY and WV Nurses Association and Appalachian Healthcare, Inc., representing some 800+ registered nurses in 9 hospitals in two states where Staffing and Mandatory Overtime were the 2 greatest issue identified by the nurses. .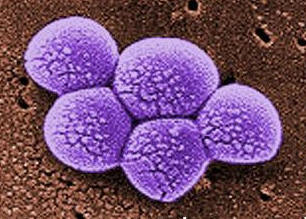 The picture on the right is a photomicrograph of
Methicillin-resistant Staphylococcus Aureus (MRSA).