| | |
| --- | --- |
| Health Watch USAsm - School COVID Safety Resources | |
Lectures Regarding School COVID Safety & Childrens' COVID-19 Risks.
-- Resources in the Peer Reviewed and Lay Literature.

2023, Sept. 6. COVID is closing Kentucky schools – again. Embracing disinformation paralyzes our response. The myth that children do not have to worry about COVID, along with other respiratory diseases, is based on misinformation.
Unfortunately, too many of our schools have unhealthy buildings with outdated HVAC systems. This will adversely impact our children's learning, along with placing them at risk for acquiring respiratory diseases (RSV, flu and even colds). I felt the spending of COVID funds on outdoor sports and running tracks, as opposed to improvements in indoor air quality and COVID mitigation strategies, exemplified Kentucky's embrace of disinformation and inability to safeguard the lives and well-being of our children. Let's make Kentucky the national leader in providing a safe educational environment for our children. The first and easiest steps will be to upgrade school ventilation and to respect parents who are masking their children. References Courier Journal. Sept. 6, 2023. https://www.courier-journal.com/story/opinion/2023/09/06/kentucky-school-districts-close-covid-upgrade-buildings-ventilation/70765140007/

2023, June 5. 70% of COVID-19 Cases Transmitted By Children COVID-19, schools, and children are sensitive topics. Some worry about transmission in schools, while others don't see it as a concern. Which is it? "One of the lessons of the COVID-19 pandemic is that schools can be opened safely if proper mitigation strategies are in place. However, during the pandemic, we witnessed a vicious cycle of concerned and loving parents wanting in-person learning for their children but justifying their position by asserting that COVID-19 in children was "not a thing." This often led to mitigation strategies not being implemented and teachers being reluctant to return to school. Schools remained closed for a period much longer than would have been necessary. We must start planning for the next infectious disease surge and build an effective school infrastructure, including upgrading ventilation and upper room UV-C germicidal lighting." References Infection Control Today. June 5, 2023. https://www.infectioncontroltoday.com/view/70-covid-19-cases-transmitted-by-children

2022, Oct. 18. Mitigating the Effect of COVID in Children: The Struggle Continues
Allen Geller, RN, MPH, from the Harvard TH Chan School of Public Health discusses COVID-19 in children. COVID-19 is still a serious pandemic in the United States with 350 to 400 total deaths per day. Children can get COVID-19 and develop serious disease. A common misconception is that children do not spread the disease, but they can spread it to both teachers and caregivers. Schools are one of the great reservoirs for transmission of COVID. For school safety, during high levels of community spread, masking, rapid testing and cohorting are strategies which should be implemented. Students should be vaccinated before the start of the school year. One of the goals for adequate ventilation is at least 6 air exchanges per hour which has led to better health outcome and is important for cognition and reducing school absences. During the pandemic there was approximately a doubling of absenteeism.
• Push for districts to promote vaccinating a large number of 5 to 11 year olds that are still not vaccinated.
• Work with districts to rebuild their COVID dashboards.
• Regular testing of children is supported by two-thirds of parents. Make provisions of rapid antigen tests opt-out rather than opt-in. There is strong support for providing take home rapid tests.
• Strongly reconsider remasking in periods of surges reviewing week by week attendance data.
• Wastewater testing has the potential of being used to monitor for the prevalence of SARS-CoV-2 in schools.
• School based attendance records are also important triggers for medical and public health review.
• Portable CO2 monitors should be used to monitor air quality in school rooms.
Health Watch USAsm meeting, Oct. 19, 2022. https://www.healthwatchusa.net/Videos-Meeting/20221019-AllenGeller.htm

2022, Mar. 14: Evidence Shows Students Need to Wear Masks in Schools Despite Disinformation
Multiple studies and reports show that masks in schools are effective, safe, and necessary because COVID-19 is not going away. Above all, as pointed out by the "Getting to and Sustaining the Next Normal" report, we need clear guidance on when school mitigation recommendations ("including masking, social distancing, quarantining, reduced class sizes, and outdoor learning") are to be triggered to enable communities to provide the safest environment possible for the education of our children. References Infection Control Today. https://www.infectioncontroltoday.com/view/evidence-shows-students-need-wear-masks-schools-despite-disinformation

2022, Mar. 3: Preventing the Spread of COVID-19 While Keeping Kids in School: A Case Study
Amanda Mulcahy: Swampscott's overall goal was to keep students and staff safe with significant consideration to minimize the disruption to learning for students and their families. This was accomplished with layers of mitigation strategies that were applied in the district. With every added layer, another barrier was created to protect both students and staff, keeping them safe in the district's buildings and allowing the prioritization of in-person learning. Interventions included, attention to air filtration and circulation, use of masks, robust testing, case tracking and promotion of vaccinations. Infection Control Today. https://www.infectioncontroltoday.com/view/preventing-spread-covid-19-while-keeping-kids-school-case-study

2022, Feb. 16: COVID-19: School Safety and Mitigation in Massachusetts
Amanda Mulcahy, RN describes the COVID-19 mitigation strategies which have been implemented at her Massachusetts' school system. These include upgrading ventilation, masks, social distancing, barriers, outdoor classes, robust testing, vaccinations and boosters, and symptom monitoring and tracking. The collection of data was also used to evaluate strategies and to guide the timing of implementation. Health Watch USAsm Meeting. https://youtu.be/JVYKWhW0ffk

2021, Sept. 10: Viewpoint: We're Reopening Schools Too Quickly
The further away from an infected person you are, the less likely you are to contract the disease. But you are still not safe at 6 feet. The virus is airborne and can spread much further to the back of the classroom. There are those who advocate for herd immunity, but in reality, this is a fool's dream. Teleschooling and hybrid programs may be a vital long-term strategy. They were not fully successful last year, but instead of discarding this strategy we should be developing improvements. It is apparent that the SARS-CoV-2 pandemic is an extremely difficult ever-changing problem. We must slow down the spread of this virus by adopting a layered approach so our pharmaceutical industry has time to catch up with development of therapeutics and next generation vaccines. References Infection Control Today. https://www.infectioncontroltoday.com/view/viewpoint-we-re-reopening-schools-too-quickly

2021, Aug. 10: COVID-19 is ravaging our unprotected children. Opening schools now is dangerous
Currently, we are confronting a variant that is more than twice as infectious as last year's wild-type virus; it is more deadly and has an increased propensity to infect children. Kentucky's community spread is extremely high with a test positivity rate of over 10%. To open schools at this time and expect our children to be safe is dangerous cult thinking. Unfortunately, we have done nothing to prepare for continued waves of COVID-19. We have squandered coronavirus funds and just hoped the virus will go away. However, at this point, stopping SARS-CoV-2 will also require a marked change in the way we live, along with a massive infrastructure investment and a sustained commitment to the safety and welfare of others. References Courier Journal. Aug. 10, 2021.
https://www.courier-journal.com/story/opinion/2021/08/10/how-to-makes-schools-safer-for-children-amid-covid-19/5543678001/

2020, Nov. 18: COVID-19: Risks and Solutions For Safe School Systems

Rafael Moure-Eraso, PhD, Massachusetts Teachers Association, from Environmental and Safety Committee discusses the roadblocks teachers have encountered in their quest for safe schools along with the importance of proper planning, PPE, social distancing, and air quality. Health Watch USAsm meeting. https://youtu.be/tg5GxodZc3c

The Safe Return To Schools and Campuses -- Massachusetts Teachers Association Download Document

2020, Dec. 16: COVID-19 Spread: A Role For Air Disinfection

Edward Nardell, MD is a professor at Harvard Medical School and discusses the safety and efficacy of upper room Germicidal UV (GUV) fixtures and compares them to natural, mechanical ventilation and portable room air cleaners. A historical review is given along with the positive impact GUV fixtures have had dating back to cleaning air in schools during the 1942 measles epidemic. These fixtures can achieve the CDC recommended 6 to 12 complete air exchanges for infectious disease pandemics. Health Watch USAsm meeting. Video: https://youtu.be/dAJCI0pcVKY

2020, Nov. 18: COVID-19: COVID-19: COVID Facility Updates for Public K-12 Schools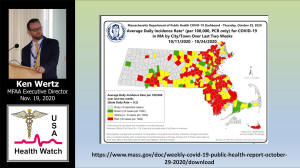 Ken Wertz, Executive Director of the Massachusetts Facilities Administrators Association, discusses environmental considerations to make facilities safer during the COVID-19 pandemic. The processes of cleaning, disinfecting and sanitizing were discussed. The difference between a disinfectant and sanitizer was illustrated with the shift to students eating in classrooms. Before the change, a disinfectant was used to clean classrooms, but after the initiation of this strategy, a safer product, a sanitizer, needed to be used. In addition, pandemic strategies involving heating and air conditioning systems were explained along with the difference between air quality and air flow reports. The latter being of utmost importance in a pandemic. Strategies of air filtration and sanitation using UV Light and bipolar ionization of the air were also discussed. Health Watch USAsm meeting. https://youtu.be/GvE9LqxzEKM

2020, Aug. 5: COVID-19: Presentation Regarding Children and When To Open Schools.

Dr. Kevin Kavanagh from Health Watch USAsm discusses the various presentations of COVID-19 in children, and the risk of childhood transmission to and infections of adults. Current guidance on opening of schools along with international experience on school openings is also discussed. Aug. 5, 2020. View Video: https://youtu.be/bH2znWXMAdU
Articles Regarding Opening Schools & Childrens' COVID-19 Risks.

Added Articles in 2022: View Articles

Mar. 4, 2021. Rush to Reopen Buys COVID-19 More Time
There needs to be a shift from droplet precaution standards to airborne spread standards and we need to invest in the safety of our frontline workers. Quite simply, this virus is aerosolized, meaning it is airborne. I really thought this had been decided last July when a letter was sent to the World Health Organization (WHO) by 329 top scientists from 33 countries. But although agencies responded by recognizing airborne spread in some of their statements and webpages, their recommendations on controlling spread and reopening of businesses and schools largely did not. Most importantly, the CDC needs to articulate firm and harmonized advisements which are consistent across all materials, recommendations and webpages. Until this happens, there will not be a demand for N95 masks and air sanitization units. Manufacturing will not gear up production and pathogens will continue to spread. We need to enact these reforms not only for COVID-19 and the next pandemic, but for other endemic dangerous pathogens. Our children deserve better than the status quo. Infection Control Today. References https://www.infectioncontroltoday.com/view/rush-to-reopen-buys-covid-19-more-time

2020, Feb. 21. Schools can be reopened safely amid COVID, but only if we take overdue steps
Political debate is one thing, but spinning science and placing our children at risk is unacceptable. Statements that research shows "schools are safer than the community" or that we should take the "default position of opening schools" are being grossly misinterpreted. "Safer" is not "Safe." It depends upon the rate of community transmission, and "default" means to do something if there is not a reason to otherwise not do it. .. Instead, we need to focus on transformation and making the needed investments in our society to effectively eliminate this virus and then to snuff out outbreaks. And this includes schools. Smaller class sizes and healthier buildings are something we should have done long ago, regardless of the COVID-19 pandemic. School-age children have always been known to have an increased risk of transmitting infections from school and all these transmissions are potentially preventable. Courier Journal. References
https://www.courier-journal.com/story/opinion/2021/02/19/louisville-school-reopenings-covid-19-orders-in-person-learning/6799161002/

2020, Feb. 15. Viewpoint: CDC's School Reopening Plan Gets an 'F'
The argument that preventative strategies need to be tailored to the needs and resources of local communities, along with a one-size-does-not-fit-all approach, may placate political pressures, but the virus does not care. You need to do what you need to do to control the disease. It needs to be clearly stated what needs to be done and if a community cannot comply and wants to open schools, then the parents need to be informed of the increased risks to students. Recommendations should not be changed to reassure families of a degree of safety which does not exist.....Frequent, (three times a week) screening of our athletes has been key to the opening of professional sports. Our students deserve the same safety precautions as professional athletes. Infection Control Today. References https://www.infectioncontroltoday.com/view/viewpoint-cdc-s-school-reopening-plan-gets-an-f-

2020, Oct. 29. Operating schools during COVID-19: CDC's Considerations
"Obtain consultation from experienced Heating, Ventilation and Air Conditioning (HVAC) professionals when considering changes to HVAC systems and equipment. Some of the recommendations below are based on the American Society of Heating, Refrigerating, and Air-Conditioning Engineers (ASHRAE) Guidance for Building Operations During the COVID-19 Pandemicexternal icon. Review additional ASHRAE guidelines for schools and universities"
https://www.cdc.gov/coronavirus/2019-ncov/community/schools-childcare/schools.html

2020, Oct. School Daze: COVID-19 Spreads Fear, Confusion:
"Opening schools should depend upon low rates of viral spread in the community, widespread testing, rigorous following of public health guidelines, and upgrading the physical infrastructure of our buildings. Our schools are anything but healthy buildings. Concerns have existed for decades regarding both the air quality and the crowded conditions our children are exposed to. COVID-19 should be viewed as an opportunity for transformation, allowing us to build a better school system with smaller class sizes for better education and implement strategies to prevent the spread of all infectious diseases" Infection Control Today Oct 2020. (Page 28) References Download Article

2020, Aug. 10: Infection Preventionists Might be Needed in Schools
Similar to our healthcare system as a whole, COVID-19 is shedding a light on deficiencies and the dearth of personal safeguards in our schools. Let us not forget, schools are a nidus for spreading the flu and other diseases. Opening schools should depend upon low rates of viral spread in the community, widespread testing, rigorous following of public health guidelines and upgrading the physical infrastructure of our buildings. COVID-19 should be viewed as an opportunity for transformation, allowing us to build a better school system with smaller class sizes for better education and implement strategies to prevent the spread of all infectious diseases. Infection Control Today. Aug. 10, 2020.

Radio Shows Regarding Opening Schools & Childrens' COVID-19 Risks.

2020, Nov. 21: COVID-19: Opening Schools
Dr. Kevin Kavanagh from Health Watch USAsm discusses the closing of schools and what needs to be done for reopening. Including better ventilation and sanitation of air, PPE, pool testing of students and teachers. In addition, we need to invoke the defense production act to produce needed PPE and testing supplies. We need better and consistent messaging from our leaders along with everyone following public health advice. Travel and the upcoming holidays are especially problematic. Jeff Santos Show. Nov. 21, 2020. (22:00) https://youtu.be/9vL0Q1nOkLQ

2020, July 30: COVID-19: Opening Schools.
Governor Michael Dukakis, Dr. Kevin Kavanagh, Melissa Tomlinson, David Palelogous discuss the complexities of opening schools. The need to lower community infection rates and modification of a school's infrastructure are of utmost importance. Concerns exist over the safety of teachers along with that of parents as new research shows risks of infections from children. Jeff Santos Show. (Two Segments a Total of 30 mins.)
https://soundcloud.com/ron-crider/73020-hr-3-gov-dukakis-dr-kavanaugh-melissa-tomlinson-david-palelogous
https://soundcloud.com/ron-crider/73020-hr-3-gov-dukakis-dr-kavanaugh-melissa-tomlinson-david-palelogous-1

2020, July 16: COVID-19: Spiking Cases and School Openings
Dr. Kevin Kavanagh from Health Watch USAsm discusses the spiking cases in the Southern United States and the current discussion on whether or not to reopen classroom teaching. Jeff Santos Show. (21:54) https://youtu.be/eo8j1Rf2pCI