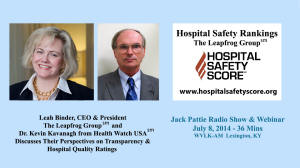 Related References for The Leapfrog Group Hospital Ratings: Jack Pattie Show, July 8, 2014
References on Adverse Events:
"Using a weighted average of the 4 studies, a lower limit of 210,000 deaths per year was associated with preventable harm in hospitals. Given limitations in the search capability of the Global Trigger Tool and the incompleteness of medical records on which the Tool depends, the true number of premature deaths associated with preventable harm to patients was estimated at more than 400,000 per year. Serious harm seems to be 10- to 20-fold more common than lethal harm."

From: James JT. A New, Evidence-based Estimate of Patient Harms Associated with Hospital Care. Journal of Patient Safety. Sep. 2031 9(3):122-128 PMID: 23860193
http://journals.lww.com/journalpatientsafety/Fulltext/2013/09000/A_New,_
Evidence_based_Estimate_of_Patient_Harms.2.aspx
---------------------------------------------------------
13.5% of hospitalized patients had a serious "adverse events"
An additional 13.5% of patients had "temporary harm" events.
In addition, "28%" of the 13.5% of patients who had a serious event also had "temporary harm"

Over all at least 44% of these events were judged as being preventable. Patients could have multiple events (such as the 28% of the 13.5% of patients with serious events also had temporary harm events).

From: Levinson, DR. Adverse Events in Hospitals: National incidence among Medicare beneficiaries. November 2010 OEI-06-09-00090 http://oig.hhs.gov/oei/reports/oei-06-09-00090.pdf
---------------------------------------------------------
Medical Errors may be the third leading cause of death in the United States
http://www.propublica.org/article/how-many-die-from-medical-mistakes-in-us-hospitals
---------------------------------------------------------
"As many as 65%-70% of cases of CABSI (Catheter Associated Bloodstream Infections) and CAUTI (Catheter Associated Urinary Tract Infection) and 55% of cases of VAP (Ventilator Associated Pneumonia) and SSI (Surgical Site Infections) may be preventable with current evidence-based strategies. CAUTI may be the most preventable HAI. CABSI has the highest number of preventable deaths, followed by VAP."

From: Umscheid CA, Mitchell MD, Doshi JA, Agarwal R, Williams K, Brennan PJ. Estimating the proportion of healthcare-associated infections that are reasonably preventable and the related mortality and costs. Infect Control Hosp Epidemiol. 2011 Feb;32(2):101-14. http://www.ncbi.nlm.nih.gov/pubmed/21460463

References on Problems With Self Reporting:

"The poor state of voluntary facility reporting was documented in a March 8, 2010 OIG Report which found that in surveyed hospitals, patient diagnosis codes were inaccurate or absent for 7 of the 11 Medicare Hospital Acquired Conditions identified by physician reviewers and reviewed hospitals did not generate incident reports for 93% of the events.(1)"

"An observation included in this report was from officials at the Joint Commission who estimated that only 0.1% of sentinel (severe) events are reported.(2) In addition, a July 2016 Joint Commission report stated that only 9,637 reports of sentinel events from general hospitals had been received since January 1995.(3) Only 64.6% of these reports were identified by self-reporting.(3) An AHRQ survey found similar results with 48% of 614 facilities (with 143,052 respondents) that did not report any adverse events (sentinel or otherwise) at their institution.(4) Finally, the AMA News reported that as of 2007, approximately half of U.S. hospitals had never reported a physician to the National Practitioner Data Bank that was established in 1986.(5)"

(1) Levinson DR. Adverse Events in Hospitals. Methods for Identifying Events. March 2010. Office of Inspector General. Dept. of Health and Human Services. OEI 06 08 00221 http://oig.hhs.gov/oei/reports/oei-06-08-00221.pdf

(2) Levinson DR. Adverse Events in Hospital: Overview of key issues. Dept. of Health and Human Services, Office of Inspector General. Dec 2008, Page 25, 32 http://oig.hhs.gov/oei/reports/oei-06-07-00470.pdf

(3) Sentinel Event Statistics. The Joint Commission. March 31, 2010. http://www.jointcommission.org/NR/rdonlyres/377FF7E7-F565-4D61-9FD2-593CA688135B/0/SE_Stats_9_09.pdf

Summary Data of Sentinel Events Reviewed by The Joint Commission. July 5, 2016. https://www.jointcommission.org/sentinel_event_statistics_quarterly/

(4) Sorras J. Hospital Survey on Patient Safety Culture: 2009 Comparative Database Report . AHRQ March 2009 http://archive.ahrq.gov/professionals/quality-patient-safety/patientsafetyculture/hospital/2009/hospsurv091.pdf

(5) Sorrel AL. When is conduct reportable? National Practitioner Data Bank takes complaints from hospitals about physicians. American Medical News Sept 21, 2009 http://www.ama-assn.org/amednews/2009/09/21/prsa0921.htm

From: Financial Incentives to Promote Healthcare Quality: The Hospital Acquired Conditions Nonpayment Policy. The Journal of Social Work in Public Health. 2011 Sep 26(5):524-541. PMID: 21902485 http://www.tandfonline.com/doi/abs/10.1080/19371918.2011.533554&

-------------------------------------------------------------------------------------------------------------
A study of three major hospitals found that errors occurred in one in three patients and that 90% of these errors which not have been identified by standard tracking systems from the Agency for Healthcare Research and Quality.
From: Classen DC, Resar R, Griffin F, Federico F, Frankel T, Kimmel N, Whittington JC, Frankel A, Seger A and James BC. 'Global Trigger Tool' Shows That Adverse Events In Hospitals May Be Ten Times Greater Than Previously Measured. Health Affairs. April 2011 vol. 30 no. 4 581-589. http://content.healthaffairs.org/content/30/4/581.abstract/a>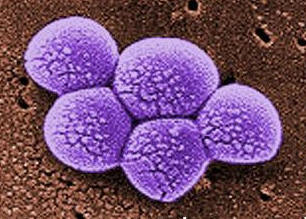 The pictures on the right and left are photomicrographs of
Methicillin-resistant Staphylococcus Aureus (MRSA).