Suzan Addison Shinazy RN (retired) Return To Board of Directors Page
As an ICU RN with only four years experience, I watched my mother die of failure to treat several hospital acquired infections. I saw how medically harmed patients are let down by the medical and the legal industry. So, I joined efforts with Consumers Union Safe Patient Project to bring improvements to California's healthcare. My personal work consisted of helping medically harmed patients, one by one, in any way I could.

In 2011, I was violently attacked by a hallucinating patient while at work as an RN. This lead to spinal cord compression, eventual right sided paralysis, and emergency surgery. Surgical errors lead to a massive lung hemorrhage. In addition, medication errors and failure to treat the hemorrhage resulted in permanent lung damage. I am now on a lung transplant list. Not one of the healthcare professionals involved in the errors has stepped up to help me through this ordeal.

I began a 'Medical Error Transparency Plan' group in an effort to fight the lack of transparency surrounding medical errors and fight the lack of help for the medically harmed. Dr. Kevin Kavanagh and his Health Watch USA meetings have taught me (and others) so much, and I am honored to be able to help with his efforts.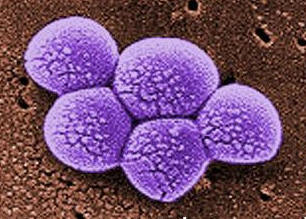 The picture on the right is a photomicrograph of
Methicillin-resistant Staphylococcus Aureus (MRSA).